Three vegetarian recipes with pasta
A popular basic dish, pasta is appreciated for its invigorating and economical side. The student decorates it with a packet of bacon, others prefer a few prawns. Other options: without meat or fish, but with tomatoes, chard, zucchini, peppers or mushrooms.
Soba noodles with vegetables from Romuald Cardon
Preparation time 20 mins
Cooking time 25 mins
Difficulty easy
Ingredients for 1 to 2 people (depending on appetite)
100 g soba noodles (with buckwheat)
1 sweet potato
6 button mushrooms
1 zucchini
½ red bell pepper
½ bunch of chard (leaves and ribs)
1 piece of fresh ginger (4-5 cm)
2 tbsp. c. turmeric powder
1 vegetable stock cube
olive oil
Sesame oil
soya sauce
rice vinegar
flax or sesame seeds
salt
Step 1: the vegetables
Peel and cut the sweet potato into fries, steam it (the flesh should remain firm). Peel and slice the ginger into thin strips. Cut the rest of the vegetables into medium-sized pieces. In a wok, heat 2 tbsp. at s. of olive oil with minced ginger and turmeric powder. When the oil is very hot, add the chopped vegetables and the blanched sweet potato. Salt. Sauté for 15 to 20 minutes, until all the vegetables are cooked, soft, without being too brown. Do not hesitate to add a few spoonfuls of water during cooking, the taste of the vegetables will only be better.
Step 2: the soba noodles
While the vegetables cook, bring a pot of water to a boil. Add the stock cube and cook the soba noodles for 5 minutes. Drain and immediately run under cold water. In a bowl, season the noodles (cold) with 1 tablespoon of sesame oil, 1 teaspoon of soy sauce and 1 teaspoon of rice vinegar. Taste and adjust the seasoning if needed. If you prefer to eat the soba hot, do not pass them under water and only accommodate them with a little soy sauce.
Step 3: finishing and accompaniment
Serve with warm vegetables, garnish with a pinch of flax or sesame seeds. This dish will go very well with a dry and lively white wine from the Loire, such as Premier Rendez-Vous, by Lise and Bertrand Jousset.
Read also:
Soba noodles with vegetables from Romuald Cardon
Alessandra Pierini's pasta saporita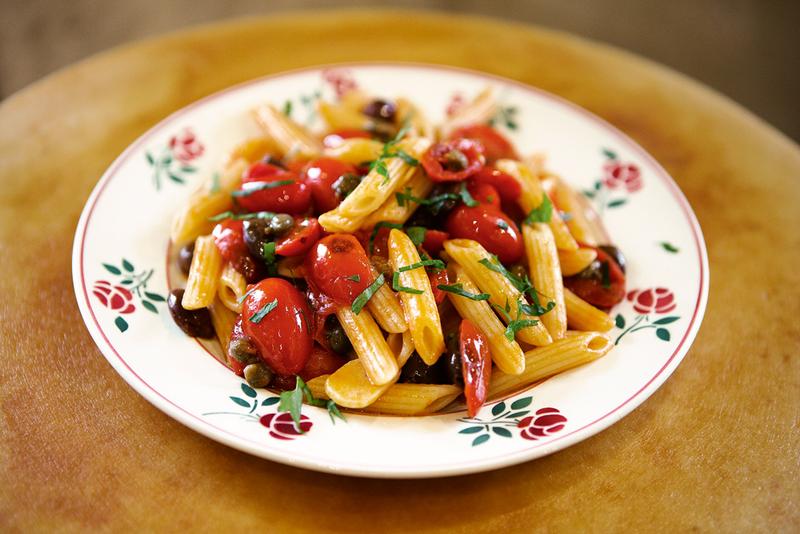 Preparation time 15 mins
Cooking time 15-20 mins
Difficulty easy
Ingredients for 4 persons
400 g penne rigate (preferably Italian brand)
40 pitted taggiasche olives
40 g salted capers
2 cloves garlic peeled and thinly sliced
350 g ciliegino or datterino type cherry tomatoes (or good quality canned)
extra virgin olive oil
1 pinch of chilli (powdered or chopped)
3 sprigs of chopped fresh parsley
salt
You have 49.68% of this article left to read. The following is for subscribers only.